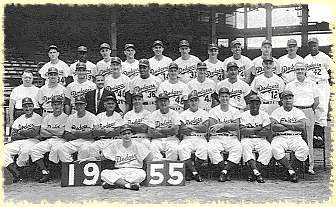 An inspirational catcher
Monday, January 15, 2001
On this Dr. Martin Luther King Jr. Day, I am honoring Roy Campanella. Though Campanella was the sixth black and the first black catcher in the major leagues, he does not get much attention from civil rights activists. His outgoing personality made him popular in Brooklyn. His playing career ended tragically by an automobile accident that left him paralyzed from the neck down. Campanella overcame many physical challenges to work with the Dodgers in community relations and as a catching coach.
In 1921 Campanella was born in Philadelphia to a black mother and an Italian father. As a youth he played on an all-black baseball team, but also he starred as the only black on an American Legion Team.
At sixteen he joined the Negro League's Baltimore Elite Giants. He learned his catching craft under Biz Mackey, a good black veteran catcher. In 1939 he earned the full-time job, and soon he competed with the aging Josh Gibson as the most dominating catcher in the Negro Leagues. He was voted the Most Valuable Player of the East-West all-star game in 1941. Because he had a salary dispute with the owner of the Elite Giants, Campanella played in the Mexican League for part of 1942 and all of 1943. However, he returned to the Elite Giants for the seasons of 1944 and 1945.
The Brooklyn Dodgers signed Campanella in 1945, and he was the second black to be signed by a major league team. In 1946 playing under Walt Alston he earned the Most Valuable Player award with the Nashua Dodgers, a class B team, of the Eastern League. In 1947 he won another Most Valuable Player award while playing in Montreal, the Dodgers' top farm team. The Dodgers delayed his promotion to Brooklyn because Branch Rickey wanted Campanella to integrate the American Association.
In 1949 Campanella finally earned the Brooklyn Dodgers' starting catching job. He had a knack working with pitchers to get their best out of them. Despite his bulky frame, "Campy" was quick defensively. As most catchers, Campy's offense was inconsistent depending how healthy he was. In 1951, 1953, and 1955 he won the National League's Most Valuable Player awards, and Stan Musial, Mike Schmidt, and Barry Bonds joined him to be the only National Leaguers to win three Most Valuable Player awards. In 1953 Campanella hit 40 home runs as a catcher that established a record that stood until 1996 when Todd Hundley hit 41 home runs as a catcher. Campanella's good natured and outgoing personality made him popular with his teammates and fans. His enthusiasm for baseball showed when he took the field. Campanella once said, "I never want to quit playing ball. They'll have to cut this uniform off of me to get me out of it."
One icy January night in 1958 they had to cut Campanella out of his car that had skidded on the ice and hit a telephone pole. This accident ended his career and left him paralyzed from the neck down. Campanella had a career batting average of .276 with 242 home runs and 856 RBI in 1,215 games. On May 7, 1959, at Los Angeles Coliseum the Dodgers honored Roy Campanella during an exhibition game between the New York Yankees and Dodgers. Ninety-three thousand one hundred five fans, many of whom had never seen Campanella play, attended the special night, and it remains the largest crowd to see a baseball game. In 1969 Campanella was inducted into the Baseball Hall of Fame becoming the second black to receive that honor.
After his playing career, Campanella worked with the Dodgers in community relations. In 1977 Tommy Lasorda asked him to be a part time coach. Campanella helped and inspired many players. Though Campanella endured many illnesses and hours of therapy, he was at every Hall of Fame induction, spring training, and old-timers' game. Though life was rarely easy for Campanella, he remained cheerful and outgoing. Living many years beyond his life expectancy, Campanella died June 26, 1993, at the age of 71.